More Website Templates @ Robert Adams July 30, 2012!
The Beauty of Illumination CDs
Robert Adams
These CD's are of superb quality in crystalline clarity re-mastered in the Hollywood music studio in which Robert Adams selected his music to specific dialogues, forming his institute for the sole transmission of his loving purity 'for generations to come.'
see our BLOG on Robert Adams in Concert
Inspirational, appropriate for home use, they are utilized in The Robert Adams Institute Brotherhood Classes and Meditations. Per his original unchanged format of Dialogue presentation held by his lineage, in great joy and deep, gentle transformative illumination we present this work within the context of his personal loving, benevolent and unique guidance in a palpable lifting of consciousness, for which he is revered globally.
'The music opens the heart to Truth. Without which, it remains dry, memorized 'head knowledge'. The perfect balance of the compassionate heart assimilates Truth into a Direct Experience rather than dry words."
Silence of the Heart Vol One:
CD One:
Overcoming Problems
Hold on to The Truth
Joy is naturally yours
Who am I?
Your True Nature "Your true nature is loving kindness.."
On the Way to the Source
The King
You Have Become Free
Robert's chosen Music accompanies this CD.
CD Two:
Smile Be Happy
Knowing truth and living truth
Tremendous progress
Introduction to the Gap
( as introduced by Robert Adams in earliest and later literature and recordings)
Your Free Choice; The key to your progression
Study the Teaching
Power and presence within
You are Free in your heart
Self-inquiry is a superior method. The Robert Adams gentle method of inquiry.
'When doing Inquiry, don't forget the love."
Robert's chosen Music accompanies this CD.
Silence of the Heart Vol 2
CD One:
Story of Nicodemus and Jesus
Find yourself and become free
Happiness –expand it into eternity
Chalkboard
Unparalleled Joy
Return to God
Lift your eyesight to the Heavens
Surrendering the Mind
I am that I am
You are the light
Robert's chosen Music accompanies this CD.
CD Two:
Obtaining Absolute Reality
"feel the grace which is always available"
Natural Ambient texture in the background
.
Silence of the Heart Vol 3:
CD One:
Discover your true nature
Natural Ambient texture in the background
CD Two:
Become liberated
Natural Ambient texture in the background
All is Well Vol 1:
CD One:
All is is well
(from the divine perspective)
Natural Ambient texture in the background
CD Two:
Compassionate Self-Inquiry
Natural Ambient texture in the background
An intimate guide to his own "Compassionate Inquiry" . 'When practicing inquiry, don't forget the love. The emptiness, the void is not illumination. It is simply a quieting of the human mind. You must go further. True Illumination is indescribable omniscient love, harmony, deep bliss, the peace that does not change. This is God. The Supreme. Within and without. You must have a compassionate heart for others as you being, without which one cannot truly progress. " Robert Adams
All is Well Vol 2:
CD One:
Originally Robert Adams dialogue on I AM Meditation with Robert Adams own compassionate Self-Inquiry
Natural Ambient texture in the background
CD Two:
Observing the human condition
Natural Ambient texture in the background
Immerse yourself in the Pure Form Sanctuary of the Message of Love, Compassion and Humility in direct experiential purity, guided, blessed by the Sage.
"The Beauty of True Illumination." A beautiful most complete moments of exquisite inspiration and powerful personal practical guidance accompanied by gentle Robert Adams personally selected music as the appears in the Hollywood music studio bandhara videos directing his transcendent transmissions to his music as the expression of the living words themselves. A rare experience of a true, internationally revered master teacher sharing his gift of palpably transmitting an awareness of 'The Glory and the Splendor' of bliss, love and peace permeated reality. 'The saints and sages that you admire did their homework. You must make the daily effort. Jump deeply into God everyday until you feel the bliss, the joy, the love. You will reap the fruits of your efforts. You will sail through this world guided by The power That knows the Way. You will be protected." Peace. Peace. Peace."
Robert Adams Lessons
Robert Adams Original Pure Form Teaching of love, compassion and humility, "The most important thing." is beautifully transmitted in his own sequential personal instructives in a full spectrum offering of extemporaneous Dialogues.
The Original Pure Form Forty Years of Lessons given in the Sages own directives and sequential order. Daily guidance, precise clarification, spiritual integrity and ethics in light of the universal laws. An in depth immersion in The Light of a Thousand Suns in practical daily life.
"Do not read more than one a week, or month. The West likes to collect information, retreats, terminologies, but who is experiencing God? Therefore upon awakening ponder one paragraph, read it again, perhaps chant and pray, then read it again. Digest it. Let it become a part of you.
Sit by the ocean. A meditation sanctuary of peace. Digest each word. How do you know you are progressing? You feel a loving kindness for others. A compassion. A peace that does not change. The pull of the world loosens its hold on you. You achieve peace with others. Joy bubbles up."
Robert Adams ON LINE LESSONS
DOWNLOAD sent weekly to your email.
Lessons BELOW
45.00 - 32 weeks of Lessons
DAILY METHODS AND MEDITATIONS ROBERT ADAMS EXPERIENCE A NEW REALITY"
You must do something spiritual everyday. I call you to do these things everyday. You will live in a New Reality. Your entire life will be transformed. You will have a Direct Experience of Bliss, The Supreme, Peace, Love, Truth that does not change. Life will become bright."
:
Books Robert Adams Collection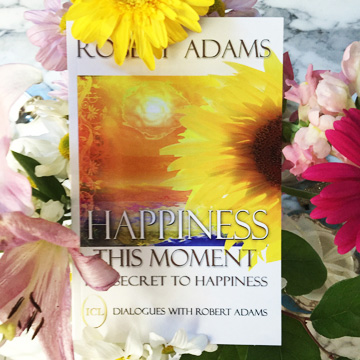 Happiness This Moment
"Within You Is The Light of a Thousand Suns." A real, modern and touchingly deep revelation instructing how to identify with the solid bliss, warmth and ultimate power of love in daily life and through all crisis.
Happiness This Moment Robert Adams.. Differing from the emphasis on 'getting through', this Master of Peace shows how to find and reach an eternal reality of deep joy that never changes.
Currently utilized in spiritual groups, therapeutic, rehab and counseling institutions throughout the world, this 'Bright and Shining", rare instructive on tapping into the Light of a Thousand Suns reveals the undercurrent of The Power That Knows the Way beneath all circumstances, a gem of light that is a cherished favorite of students and seekers.
Includes shipping - to the US and international choose the icon below:
HAPPINESS-THIS MOMENT THE HAPPINESS TALKS
"Happiness is the Substratum of Your Existence."
A true illumined Master known for the dramatic emanation of joy, peace and goodwill from his personal presence, speaks in depth, with humor, and touching supernal tenderness on the Reality of the Eternal Happy Ending.
Living in happiness daily, truly sings the eternal Truth within your heart. Through his sublime words he touches loss, grief, and the foundation of clinging to the true unchanging heart of happiness as your experience rather than intellectual 'head knowledge' with joy.
Read more about Happiness This Moment
Harmony With all Life
RobertAdams
'You must reconcile yourself with the Animal kingdom.'
Robert Adams own treatise of the natural need to return to our true state of non- harm to all living beings, the universal laws of Ahimsa- non-harm, love, and respecting the spiritual consciousness of the animal kingdom with ethical vegetarianism.
"What right do you have to hurt an animal?"
"This treatise completely changed my life! i cofinance a rescue center in an abandoned monastery and my former 'spare' time is filled with the awe of the one supreme creator daily. i never questioned meat eating. I intellectualized brutality as Robert Adams says, in order to not really look at it.'
Myron Goldstein N.Y. N.Y. lessons
Download Book sent to your email.
Harmony with all Life page link
The Masters Personal Meditation Anointing Oil currently available in The Bliss Package on this page.
Robert Adams Meditation Anointing Oil -The Sweetness of our True Nature-
As a gentle, deeply uplifting reminder of the presence of this gentle Master of purity, we use this oil only for special occasions.
Available seasonally and holidays.
How To Live
"How to live? Live by The Golden Rule. Do to others what you want others to do to you."
"Anger is the first thing to go on the spiritual path."
"As you are unfolding, spread sunshine to all you meet. Ask others what you can do to make their lives easier."
"Visit the housebound, the lonely. Be of service to others."
"If the end result of illumination is love, compassion and humility, what if we were to do that now?"
"Our mission on this earth is to be of service to humanity."
"I am calling you to a higher vision. To rise above mans inhumanity to man. To experience the truth of who you really are. This pull of the world is very strong. This is why you must do practices everyday, where you dive deeply into the bliss within you. Do this gently, naturally, happily, each morning upon awakening and before you go to sleep. The world will lose its pull on you. You will begin to feel lighter, happier. All great religions teach this, for you must put forth the effort to reap the rewards that you seek. You will begin to sail though your life."
Ladies Meditation and Music Evenings Begin. Join the international fellowship in the original beautiful Robert Adams Meditations to Music in a powerful evening of joyful immersion in the 'peace that passeth understanding."
A beautiful and sensitive application of the rare, original meditations of Robert Adams for women, with soul nourishing discourse, uplifting meditation, personal prayers and music. Special Guests and authorized teachers selected by Robert Adams.
Thank you to our Indian fellowship for your wonderful cards, vids and emails for Amrit! A joyful day was had by all!
"When you celebrate, celebrate with all of your heart. Make life joyful as you unfold. Do not become grim, uninvolved. Within you is a joy beyond imagining. Let this joy burst through in all of its radiance."
Robert Adams
"There is a Reality of love, peace, happiness, bliss. Which Reality are you identifying with?"
" A New Reality."
The New Reality Discourses of Robert Adams, The Methods, The Message, The Bliss. The Soft cover book new re-release available now. A rare and powerful personal guidance into the original personally conveyed deep meditations and practices, as Robert Adams directed released again for the year 2010.
A New Reality Book
Robert Adams
"Superb! This is my treasure chest of a new depth of understanding of the things he mentioned previously, with a transcendental beauty. My husband and I took this book to a beach retreat and read it aloud to each other all weekend. I felt my insides lift to a measurable point in love." Doris Thomas SF CA
"A Robert Adams essential. I feel the heart of this master enveloping me in grace here as he just takes you directly to divinity. The narratives and examples brought tears to my eyes. A power packed companion to those who wish to really feel the essence of this 'magnificent' teacher. We have included this in our international recommended spiritual reading of the most excellent caliber newsletter. "
Rob and Mai Tennon NY NY
Included is his 'I AM' meditations, The illumined depth of The Fourth Dimension "The Gap", along with a illustrious introduction to many multi-layered rare practices and meditations of Robert Adams, complimenting the in-depth complete immersion in the method of Compassionate Self-Inquiry.
This richly profuse collection of jewels of in depth personal practices provides an unusual offering of complete life guidance in daily transformation and instantaneous upliftment, with an emphasis of having 'a direct experience' of the methods of Robert Adams in exacting and beautiful instruction. Harmoniously complimented by his most poetic and lovely Dialogues on Grace, Karma and the practicalities of daily life, his Dialogues are laced with delightful humor.
The heart of Robert Adams in full power and completion emphasizing a broad offering of powerful daily practices with tender patience, guidance and supernal extemporaneous transmissions in transparent clarity. The original Teaching of the expanding "Now" eternal reality and direct bliss experience in the complete truth of classic spiritual illumination and spiritual integrity, honored in The Teaching of Robert Adams throughout the East and West in rare reverence.
How To Live
continued
"Your job is to preserve life whenever possible. To live in non harm, ahimsa."
"Never forget the most important thing, love, compassion and humility."
Suffering subsides. No matter what your background or religion, Happiness is the unchanging reality behind the changing images of your life. Won't you begin to experience this reality now? It's worth it!
Beyond our myriad thoughts, desires, fears, is the Unalloyed Happiness-Unimagineable beauty that transforms us in a moment. You will become radiantly happy for no reason whatsoever. Be gentle, humble and strong. The world may appear hard at times, but do not let it fool you. It has no power over you at all. Always realize that you are divinely protected, divinely guided to you highest good.
You have nothing to fight, nothing to fear. Happiness is the substratum of your existence. You are that! Robert Adams
Dr. Blake Warner, lifelong student of Robert Adams in his original group, is authorized and requested to teach the Teaching in Pure Format, offering the powerful experience.
Online Lesson Student live six week classes: "The I Thread" "Illumination." and a Master Class in application of the deeper multi layered Truth as spoken by the Sage in Happiness This Moment and Silence of the Heart. Presented in warm fellowship, amid the original format of Dialogue, Questions, Music, Meditation and fellowship with traditional blessed refreshments, as established by Robert Adams. New online lesson student classes and Candlelight Circle:
*The Fourth Dimension of Life
*Karma and Compassion
*Spiritual Vegetarianism
*Robert Adams on Children
*The True Classic Path of Illumination
*The Practices of Robert Adams
*The Three Virtues
The Robert Adams Peace Sanctuary Facebook
Our Robert Adams Peace Sanctuary Lesson Student Pondering FB Now Public. Enjoy rare meditations, daily instructionals, and beautiful original Talks.
The Golden Rule and The Yamas and Niyamas;
These important fundamental aspects of The Teaching explain daily life and decisions on a practical level in required virtues of 'true studentship."
"An easy way to begin to feel the happiness of God in your life is to sing and chant with all your heart every morning and evening. Read more on Robert Adams Teaching
This lifts you above this world. You may sing from any faith, just sing and chant to God with all your heart everyday and this will purify you, bring holiness, happiness."
The Foundation of the Pureform original Teachings of Robert Adams
new; The Robert Adams Student Peace Pondering Sanctuary on Facebook!
New. The Student Pondering Page is now public on Facebook.
The Student FB -Pondering Page is s non interactive inspiration refuge.