THE PATHWAY TO ILLUMINATION
NEW 2018 Volume Three The Pure Form Original Lesson Series by Robert Adams
Robert Adams Lesson Series
$46.00 (32 weeks of Lessons)
DAILY METHODS AND MEDITATIONS ROBERT ADAMS- EXPERIENCE A NEW REALITY
"You must do something spiritual everyday. I call you to do these things everyday. You will live in a New Reality. Your entire life will be transformed. You will have a Direct Experience of Bliss, The Supreme, Peace, Love, Truth that does not change. Life will become bright."
Robert Adams Original Pure Form Teaching of love, compassion and humility, "The most important thing." is beautifully transmitted in his own sequential personal instructives in a full spectrum offering of extemporaneous Dialogues.
Welcome to The Original Pure Form over Three Decades of Original Lessons given in the Sages blessings of his own directives and sequential order. Daily guidance, precise clarification, spiritual integrity and ethics in light of the universal laws. An in- depth immersion in The Light of a Thousand Suns, in practical daily life. "You will be guided by The Power That Knows the Way."
Your Special Lesson Home Companion and Guidance Letter Will Alternately Accompany Your Lessons. View Companion/Letter here.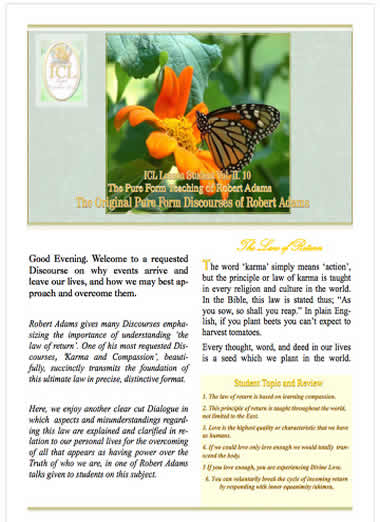 Robert Adams 32 Lesson Set
"Do not read more than one a week, or month. The West likes to collect information, retreats, terminologies, but who is experiencing God? Therefore upon awakening ponder one paragraph, read it again, perhaps chant and pray, then read it again. Digest it. Let it become a part of you.
Sit by the ocean. A meditation sanctuary of peace. Digest each word. How do you know you are progressing? You feel a loving kindness for others. A compassion. A peace that does not change. The pull of the world loosens its hold on you. You achieve peace with others. Joy bubbles up."
The Original Pure Form Three Decade Lessons FAQ's Link